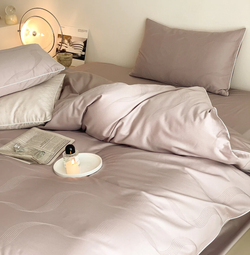 Spread Spain® Award Night 700 TC Premium Bedding Set
The Award Night Bedding Set from Spread Spain® is inspired from the celebration of an event that's extra-ordinary to your life. Just like the stars shine bright on the night when the awards are given to the most promising and deserving individuals, this bedding set is royally made from Pure Italian Jacquard measuring a true super premium thread count of 700 is crafted for the sense of outstanding visual appeal combined with a sense of touch that shall be remembered throughout your life's most awarded moments. 

The sleek and premium quality fabric of this bedding set, beautifully drapes on your bed making you and your room look stylish and contemporary at the same time.


The 5-Pieces Set Includes :
1 Double Flat Plain Bedsheet : 269 cms. X 279 cms. / 106 X 110 Inches Approx.
2 Pillow Covers : 45 cms. X 73 cms. / 18 X 29 Inches Approx.
1 Double Duvet/Quilt Cover : 218 cms. X 236 cms. / 86 X 93 Inches Approx.
1 Double A/C Quilt : 218 cms. X 236 cms. / 86 X 93 Inches Approx.

Comes in a premium ready gift-box set.


This product has been tested and has lasted its quality of cotton endurance during repetitive wash cycles in different conditions ranging from various water temperatures, steam cycles, drying patterns, ironing, and other procedures.* This is our quality guarantee from Raséya Home. 

*We strictly advise you to follow the product care guidelines as mentioned on the product/product packaging.
Handling Time

We will dispatch your order from our facility in a maximum of 1-2 business days. Order dispatch details will be provided to your registered e-mail.

Local orders (U.A.E.) should reach you by a maximum of 2 - 3 business days from the point of placing the order with us.

Orders placed from the GCC Region should take maximum of 1 week time to reach to you from the point of ordering.

Non-GCC/Asia/Africa/Europe/Americas/Australia should take a maximum of 1.5 - 2 weeks to reach you from the point of ordering. 
Returns

Returns
 are accepted within 7 days from the point the order has been delivered to you. 
To be eligible for a return, your item must be in the same condition that you had received it in, unworn or unused, with tags, and in its original packaging.


In order to start the return process, please send us an e-mail to
Only orders coming from the GCC region countries (Oman, Kuwait, Qatar, Bahrain, KSA, and the U.A.E.) are eligible for free returns.
Rest of the countries, will not be given free shipping labels for return. The customer is responsible for all expenses relating to the return shipping process.
Cancellations

Cancellation requests will be accepted strictly within 24 hours of placing an order only. Incase if you wish to cancel your order, please send us an e-mail at
Shipping Partners

Our orders ship Internationally with a tracking detail. Our preferred shipping partner is DHL/IQ Fulfillment

Shipping Duties / Customs / Taxes

We are not responsible for any fees on the part of your local shipping duties / customs / taxes as that will have to be completely borne by the customer.